The short answer is…I have no idea, because they should have lost at least three games by now. The longer answer is to review their thre biggest wins (two by a single point and a third in overtime) in detail below: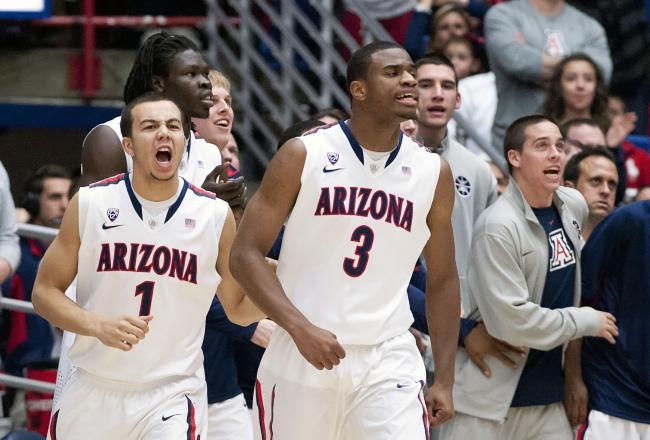 12/15/12
DESPERATE TIMES: After Nick Johnson commits a foul with 61 seconds left to play, Florida has the ball and a six-point lead.
DESPERATE MEASURES: A pair of turnovers by Mike Rosario leads to 2 free throws by Kevin Parrom and a Solomon Hill layup to make it a two-point game; Grant Jerrett makes one of two free throws after a turnover by Kenny Boynton and foul by Scottie Wilbekin; Boynton misses the front-end of a one-and-one; Mark Lyons makes a layup with seven seconds left, and the Wildcats get a one-point come-from-behind win over the previously undefeated Gators.
CONCLUSION: The Gators had this game wrapped up and simply fell apart in the final minute in front of a raucous crowd in Tucson.
12/25/12
CLOSE GAME: The Cats are up by two at halftime, and it remains close throughout a second half featuring 10 separate ties.
CLOSE SHAVE: Jamaal Franklin gets fouled after grabbing an offensive rebound and makes one-of-two free throws with 31 seconds left to give San Diego State a one-point lead; Lyons gets fouled with 13 seconds left and makes both free throws to retake the lead; Chase Tapley drives in for the potential game-winning layup with three seconds left by gets rejected by Johnson to save the day and give the Cats a one-point win over the previously once-beaten Aztecs.
CONCLUSION: Lyons is clutch and Johnson makes the defensive play of his life.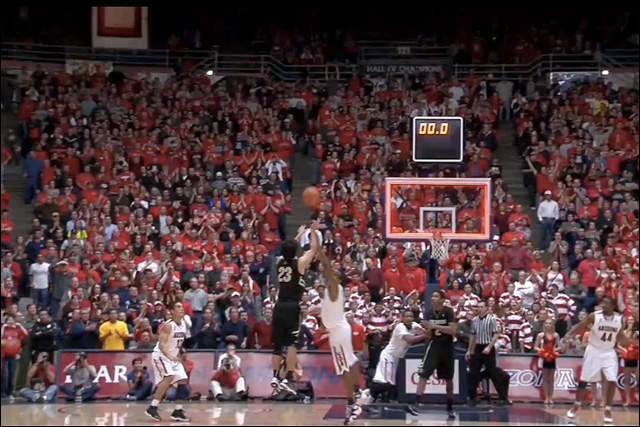 1/3/13
NOT ENOUGH TIME: Spencer Dinwiddie hits a pair of free throws with 1:48 left in regulation to give Colorado a nine-point lead, and they look to be on their way to their first road win over a top-five opponent since 1973.
TIME TO SHINE: Lyons makes two free throws and Dinwiddie misses one-of-two; Hill makes a three-point shot; Andre Roberson turns it over and fouls Johnson, who makes one-of-two; Josh Scott makes one-of-two from the line; Jordin Mayes steals a pass from Askia Booker and hits a layup to make it a three-point game with 51 seconds left; Dinwiddie misses one-of-two from the line; Lyons makes a layup; Jeremy Adams misses a pair of foul shots; Lyons gets fouled by Xavier Johnson with nine seconds left and knocks down both free throws to tie the score at 80.
OVERTIME: Sabatino Chen banks in a three point shot at the buzzer for the Buffaloes' first road win over a top-5 team since …but the refs check the monitor for several minutes and then wave off the shot because they cannot prove that it left his hand before the clock hit triple zeroes. Arizona pours it on to pull away with a nin-point overtime win over a shell-shocked Colorado team that is now 10-3.
CONCLUSION: Lyons is really clutch, and Colorado is not going to win many road games by shooting 59% from the foul line. The Cats have 17 games left in the regular season, and should be favored in every single one of them.