Welcome friends, family, neighbors, NCAA officials that still don't know what a block and a charge is, Dick Vitale enthusiasts, Dick Vitale detractors, general basketball fans and the "Marchers" to CHD's first ever Player of the Year Pyramid. We are truly very excited for you to be here.
If you're anything like us here at CHD, you eat Top-10/POY lists up like they're IHOP's all-you-can-eat pancakes. The only difference is that here; we spare you the stomachache, overall life questioning and eventual realization that something went horribly wrong (don't feel bad, we've all been there before).
So what is the Player of the Year Pyramid?
I thought you'd never ask.
It's a three-tiered "best of" list, broken down by levels. Each level is named after a former college basketball great and within them are criteria to help figure out who the Top-10 players are, starting in reverse order.
Before we jump into the actual levels, a few more housekeeping notes. Teams matter. An offensive juggernaut on North Carolina A&T is going to be weighed differently (in this case, negatively) than an efficient offensive player on Kentucky. Also, each player needs to have played a minimum of 40% of the teams overall minutes to qualify for these rankings.
Level 1: The Tyler Hansbr-Ocean View Suites
The ground floor/lobby, designated for five players that are in the discussion for the POY hardware but ultimately have a few flaws that anchor them down. These athletes will make a splash every couple of games and even give you that rush of excitement that will undoubtedly lead you to text your buddies "Why isn't ______ talked about more? He's absolutely shredding ________". But at the end of the day, when you look closely (be it the eye test or in the box score) it's still a little bit of a reach.
Level 2: The Bill Walton Psychedelic Suites
These players got into the elevator and made it up a couple floors, but they haven't quite obtained the key card for the rooftop lounge quite yet. Designated for only three candidates, as the space is limited. Reserved for those players whose teams go as they go and who continue to play consistently well but can't seem to put together a string of "McDermott Games" that push them into the national spotlight.
Level 3: The Lew Alcindor Sky Lounge
Reserved for only two. THE two. The two with the most memorable moments. The two that go on crazy streaks and big games. The two that pass the eye test, KenPom test and the "Get a feature story every two weeks on ESPN's College Gameday" test. The two that are fundamentally, characteristically and naturally better than everyone else on the lower floors. The two that the "Marchers" know the most about when the brackets come out and inevitably force them to push their respective teams into the Final Four. It also helps to have NBA general managers and scouts salivating at the mouth.
I suppose the best way to describe these players is the that names even your girlfriends and wives know.
Makes enough sense right?
Now before we get started it's important to know that we gathered all of our stats from ESPN and KenPom.com. If you have any questions about what some of the stats might mean (mainly the ones from KenPom), please click this link.
Now without further adieu, The Pyramid:
The Tyler Hansbr-Ocean View Suites:
Wesley Saunders, Harvard: It would be nearly impossible for me NOT to include the defending Ivy League Player of the Year. Afterall, the 6-5 senior is lighting KenPom up like a Christmas tree through eight games.
It's been interesting to watch the Harvard guard play this year. While he was already going to more than likely be the best defensive player on this list (he's 43rd in the nation in steal percentage) due to what I'm assuming is his natural brilliance and propensity to remain two, if not three, moves ahead of the man he's guarding, it's his offense that's raising an eyebrow or two.
Last year Saunders was an albatross from long distance, shooting 27.3% from three. He had a true shooting percentage of 54.9% and an effective field goal percentage of 47.4%. It didn't get much better at the line either. Saunders drew 5.4 fouls per 40 minutes but only converted 77.5% of them.
In almost every offensive statistical category he's better in the early going of 2014-15. He's shooting 50% from three, 54.5% inside the circle, 85.4% from the line while drawing 5.6 fouls per 40 minutes; good for a true shooting percentage of 64.2% and an effective shooting percentage of 57.7%. Saunders is also turning the ball over less, assisting on more of the Crimson's made buckets, all the while using the highest percentage of possessions in his career.
And for those of you at home screaming that it's Harvard, what happened to the "team's matter rule", well, Harvard is inside of the top-50 in RPI, top-90 in terms of strength of schedule and 2-0 against teams with an RPI in the top-100. Soooooooooo…

D'Angelo Russell, Ohio State: It's been hard for me to figure out what I think of D'Angelo Russell. Is he a talented freshman that is getting it done against cupcakes that will soon disappear come conference play, or is he a top player in the country?
To try and figure it out, I asked a buddy of mine who is an Ohio State alum and avid basketball fan: "He's legit, and smooth. If he's big enough (big if), he'll be a good NBA player. Right now, he doesn't know what's a good shot and a bad shot. If you watch the Louisville game, he's the only OSU player who wasn't terrified and who could get in the paint and finish."
Lets dive in further. Take a look at these splits against Marquette and Louisville (the only two teams ranked in KenPom's top-110):
| | | | | | | | | | | | | | | |
| --- | --- | --- | --- | --- | --- | --- | --- | --- | --- | --- | --- | --- | --- | --- |
| Opponent | Result | Min | ORtg | %Ps | Pts | 2PM-A | 3PM-A | FTM-A | OR | DR | A | TO | Stl | PF |
| Marquette | W, 74-63 | 31 | 60 | 26 | 6 | 0-2 | 2-3 | 0-1 | 0 | 2 | 4 | 7 | 1 | 2 |
| Louisville | L, 64-55 | 31 | 86 | 43 | 17 | 6-14 | 0-6 | 5-6 | 1 | 5 | 7 | 4 | 2 | 4 |
His point is well taken. While it was a disgusting display of offense against one of the better defensive teams Ohio State will see in the Cardinals, you can see that Russell kept prying in what was an all around bad offensive game for Ohio State.
Now for comparison's sake, take a look at the splits against teams outside of the top-110:
| | | | | | | | | | | | | | |
| --- | --- | --- | --- | --- | --- | --- | --- | --- | --- | --- | --- | --- | --- |
| Opponent | Result | Min | ORtg | Pts | 2PM-A | 3PM-A | FTM-A | OR | DR | A | TO | Stl | PF |
| UMass Lowell | W, 92-55 | 25 | 134 | 16 | 5-8 | 2-6 | 0-1 | 2 | 2 | 6 | 1 | 3 | 2 |
| Sacred Heart | W, 106-48 | 25 | 146 | 32 | 8-13 | 4-8 | 4-5 | 4 | 5 | 5 | 2 | 1 | 0 |
| Campbell | W, 91-64 | 30 | 193 | 22 | 5-7 | 4-6 | 0-0 | 0 | 2 | 7 | 0 | 1 | 0 |
| James Madison | W, 73-56 | 31 | 103 | 14 | 2-6 | 2-6 | 4-5 | 2 | 1 | 5 | 4 | 3 | 1 |
| Colgate | W, 70-50 | 37 | 110 | 19 | 5-14 | 3-5 | 0-0 | 1 | 3 | 4 | 2 | 2 | 1 |
| High Point | W, 97-43 | 27 | 133 | 18 | 5-7 | 2-3 | 2-2 | 1 | 8 | 5 | 4 | 2 | 1 |
That's drastically different, right?
Is this a freshman thing? Is this a "going up against a Rick Pitino defense thing"? Is this a feast on the poor thing? Or are we watching a young, talented guard blooming into one of college basketball's best talents?
I'm still not quite sure.
What I do know is that Russell is leading a top-50 offensive and top-10 defensive (both in adjusted efficiency) Ohio State team in possible minutes played, possessions used and shots taken all the while shooting 44.4% from three and 50.7% inside the arc. He's also assisting on a third of the teams shots when he's on the floor. Any way you slice it, that's pretty impressive considering the factors.
(I reserve all rights to renege on this ranking, just wanted to throw that out there)
Ryan Boatright, Connecticut: For total transparency's sake, I want it to be known that Ryan Boatright is from around where I grew up and having gone to grade school with his older brother, I have a "Hometown Kid" rooting interest in the Connecticut senior.
Illinois suburbs, what up!
While I realize UConn is off to a shaky start (4-3), Boatright has once again started off solid amidst having some bumps and bruises and has seemingly taken over the "Kemba Walker/Shabazz Napier" role on this team:
| | | | | | | | | | | | | | | |
| --- | --- | --- | --- | --- | --- | --- | --- | --- | --- | --- | --- | --- | --- | --- |
| Player | %Min | ORtg | %Poss | %Shots | eFG% | TS% | DR% | ARate | Stl% | FD/40 | FTRate | Pct | 2P% | 3P% |
| Kemba Walker | 92.4 | 116.7 | 31.4 | 32.9 | 47.8 | 54.3 | 11.6 | 28 | 3 | 6.3 | 42.6 | 0.819 | 0.471 | 0.33 |
| Shabazz Napier | 87.2 | 115.8 | 28 | 26.3 | 51.7 | 59.1 | 15 | 30.8 | 3.2 | 5.4 | 48 | 87 | 0.448 | 0.405 |
| Ryan Boatright | 90.4 | 103.1 | 30.9 | 29.6 | 45.3 | 52.9 | 17.1 | 30.2 | 2.9 | 6.2 | 47.1 | 0.825 | 0.517 | 0.2 |
First I'd like to point out how often these three drew/draw fouls (FD/40-fouls drawn per 40 minutes) and how they took/take advantage of every single one of them.
Allow me a moment to stand up and applaud their aggressiveness and overall realization that getting to the rack and in turn drawing fouls is a GOOD thing in college basketball…
(/applauding)
I thank you.
I'm going to go out on a weak limb here and say that there is zero chance Boatright shoots 20% from three the rest of the year, so that low offensive rating (and in turn the eFG% and TS%) will only be going up as the combo guard and his surrounding teammates get healthier.
Plus, who wants to root against a kid who has the heart of a lion?

Karl-Anthony Towns, Kentucky: What's a Top-anything list that has to do with college basketball without at least one Kentucky Wildcat?
The answer is stupid, always and forever stupid.
While Anthony-Towns barely makes it over the minutes restriction having only played in 47% of the teams total, it has yet to prevent me from saying "that kid good" every time I watch him. What he's doing with far less minutes than the other players in this pyramid is frightening.
Did you know that this top ranked freshman has yet to play over 25 minutes in a game? 25! He only played 18 minutes in a blowout win over Kansas, 20 minutes in a 20 point win against Providence and 16 minutes in a 12 point win against Texas.
Again, HE HASN'T PLAYED OVER 25 MINUTES IN A GAME YET THIS SEASON.
It's absolutely insane. We are talking about a 6-11, 250 pound kid that is going to be selected in the Top-5 of this years NBA Draft.
May whatever God you believe in bless whoever Coach Cal unleashes this monster against.
Yes, I do realize that some may dive into Town's box scores and divulge that there isn't much there, it's the eye test that is pushing him into the pyramid:

This is a highlight from December 7 against Eastern Kentucky. That's Anthony-Towns going up for an alley-oop, getting fouled and finishing a tomahawk dunk all in one above-the-rim sequence. That's just one play from another blowout win for Kentucky were KAT played in…say it with me… LESS THAN 25 MINUTES!
Kevin Pangos, Gonzaga: My personal wildcard and overzealous love. While some would argue that he may not be the best player on Gonzaga, or the most used, he has definitely been its most effective and efficient.
Pangos has a offensive rating of 136.4 (31st in the nation), with an effective shooting percentage of 58.9% (which remember, is the same as regular field goal percentage, except that made three-pointers are appropriately given 50% more credit because they are a better shot than long two's). He's shooting 54.8% on his two point attempts, 41.9% from three and 86.4% from the free throw line all the while assisting on 26.4% of the nations third best offense's baskets.
Pangos has that juice.
And that's without mentioning how great his hair is.
Stay up to watch a Gonzaga game. You'll thank me later.

Level 2: The Bill Walton Psychedelic Suites
Justin Anderson & Anthony Gill, Virginia: Not only is Virginia ranked in the Top-10 of the AP Poll, they have two players in CHD's Pyramid!
All men raise their voice to praise, THE ORANGE AND THE BLUE!
The two juniors are 38th and 39th in the nation in offensive rating, 29th and 59th in eFG% and 24th and 38th in TS% while playing more than 60% of the teams available minutes. These are the linch pins to a Virginia team that ranks eighth in adjusted offensive efficiency and third in adjusted defensive efficiency.
Gone are the days of Virginia slogging through on the offensive end (even their 45-26 win over Rutgers, which yes, was a real life college basketball game, played in front of real life college basketball fans, was entertaining). And their defense is better than it's ever been.
And if Anderson and Gill continue to play at this type of level through the ACC and into the tournament, may all the "Marchers" be ready to shout Virginia's name!
Montrezl Harrell, Louisville: I love 'Trez. I've loved him ever since I first laid eyes on him. I've gushed about him over and over and over again. About his physical specimen. His anger towards all things resembling a rim. His leaping ability:

anddddd there he goes again, just breaking all of the dunk records.
What makes 'Trez that much better is that the junior can spot up around the elbows and on the very next play, kill you with a faster than expected first step.
And when he does that, well, you saw what happened above.
He's a coach's dream and an analyst's favorite type of pre-game player to highlight with their, "Here's a guy that brings his lunch pail and hard hat every time he steps foot on the court. I'm talking blood sweat and tears, guys. His motor is like a G-6…second to none. And don't even get me started on the verticality. Natural. Purely natural. I love this guy, man!" type mantras.
All hail Trez!
Level 3: The Lew Alcindor Sky Lounge
Frank Kaminsky, Wisconsin: Ladies and gentlemen the Wisconsin Monstaaaar!
It seemed like it was going to be hard for Kaminsky to emulate and/or beat what he did last year for Bo Ryan and the Wisconsin Badgers, but when you watch and look up and down the statistical output, it's happening. Up are the minutes, the possessions used, the percentage of shots, eFG%, TS%, defensive rebounding percentage, assist rate, block percentage, steals, fouls drawn per 40 minutes and field goal percentage from inside and outside the arc.
This is why he came back to college basketball. To dominate.
And it's not just the fact that the domination is happening, it's how it's happening.
Put him on the free throw line?
Buckets.
Leave him open for the corner three?
Bad mistake.
Can he possibly hit from both the left and right side of the perimeter?
Yup.
What about posting up someone with a little more, how do you say, girth?
You're toast there, too.
Kaminsky is the definition of a Bo Ryan archetype. He has one of the softest jump shots in college basketball. He's an underrated finisher at the rim (especially when he moves toward the basket on pick and rolls) and he has better handles than an outsider to Bucky Basketball would think.
I love you Collegiate Frank. Forever and always.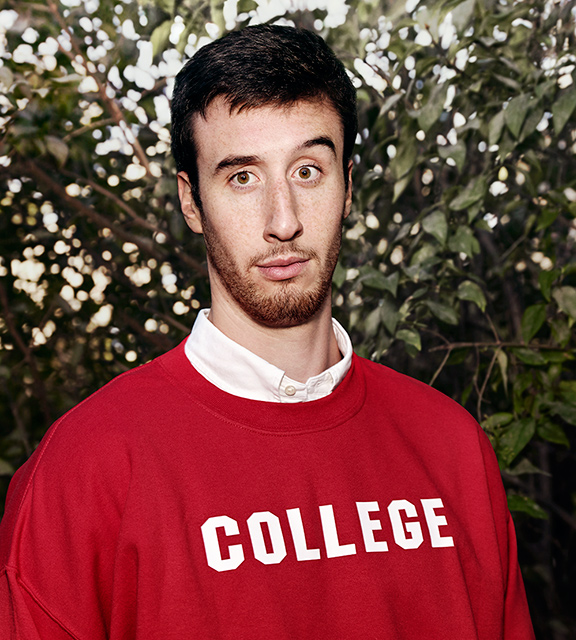 Jahlil Okafor, Duke: At this point you all are probably sick of reading what I have to say, so I'll let the Chicago native speak for himself:

With Okafor attacking the rim at every opportunity, and then stepping back and kissing the glass occasionally a la Tim Duncan, you can under stand why Philly fan is shouting… "Choke some more for Okafor!"