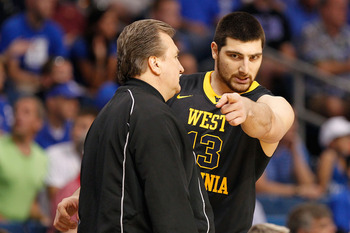 Major Kelchner writes regularly on WVU Hoops.   If you are interested in writing recaps and/ or opinion pieces for your favorite teams, please drop us a line.  We are always looking for passionate writers.
It's been a rough fall to be a Mountaineer fan.  High expectations heading into football season, that included whispers of Hiesman and National Championship, preceeded one of the greatest collapses since October 29, 1929.  Mountaineer fans are in a state of shock and hopelessness following Gonzaga's 34-point thrashing of the Mountaineers in Spokane.
After all, WVU's favorite son and best hope for a national title, Bob Huggins, will help stabilize Mountaineer Nation.  Right?
Not against Gonzaga.
Quotes akin to a someone in a state of grieving followed on message boards into the wee hours of the morning.  Quotes like "This team will not win more than 10 games and will be very lucky to win that many." and a sarcastic "Well at least the basketball team is competitive…" were seen at BlueGoldNews.com.
This attitude is born out of passion, loyalty and total and utter shock.
Let it be said that there are reasons for optimism.  Let this be a guarantee of a 20-win season for the Mountaineers.
It's very true that the team didn't do anything well against Gonzaga.  You can't argue that point.  18 turnovers was awful.  27.3% from the floor and 11.5% from behind the arc was more than dreadful.  The Mountaineers didn't even do much fundamentally well.  West Virginia was absolutely terrible that night.
There are reasons for hope.
Aaric Murray had an impressive stat line, in the midst of what seemed like anarchy and chaos.  The LaSalle transfer logged 14 points, four rebounds, one assist, two steals and three blocks.  That's pretty good when your team is getting killed and there is obviously no offense flow.  In fact, Mountaineer fans need to realize that Aaric Murray is good enough and has the potential one of the best, if not the best, power forward in the country.
West Virginia shot 26 three pointers.  Grant it, 11% isn't a reason for optimism, but 26 attempts are.  We should remove six of those attempts as desperation, meaning not in the flow of the offense but taken as shots trying to close the gap in the second half.  The fact they shot 20 (-6), and Bob Huggins didn't strangle anyone, suggests that this team CAN shoot the three, they were just awful in their opener.
One more thing to be excited about following the opening game, Bobby Huggins is still at the helm of the WVU basketball ship.  Huggins is number 33 on the all-time wins list and should pass Jerry Tarkanian and be number 26 at the end of the season when this team surpasses 19 wins.  Huggins always gets the most out of his players and is usually good at correcting problems.  He has a lot of correcting to do as we move forward in this season.
There are so many negatives, it's easy to be discouraged by the awful start, compounded with the asteroid-on-a-collison-course-for-earth depression over football season.  The good news is that there are more than twice as many basketball games to correct problems and there is also a field of 64 at the end of the season that offers a chance to make a run.